Project Description
Berlins Mobile Antidiskriminierungsberatung Nord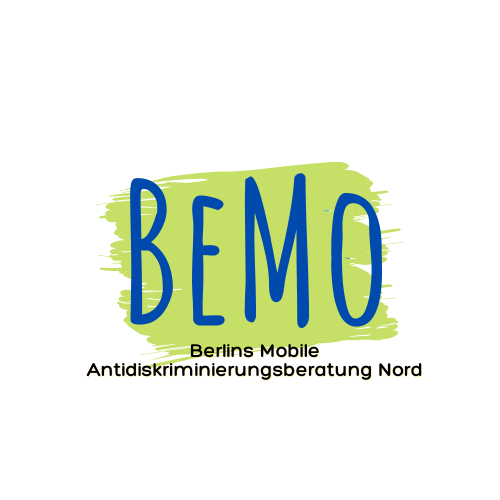 BeMo – Mobile Antidiscrimination Counselling in North Berlin
Racism is a violent violation of human dignity.
Starting in 2023 BDB e.V. is extending its counselling to support people living in the north of Berlin and in the outlying districts more directly and effectively.
You have rights against discrimination and racism
You have the right to defend yourself when you are facing racism or racist discrimination, that is, unequal or degrading treatment due to what people believe to be your national origin or because of your skin colour, your religion, your "foreign sounding" name or your language abilities. This treatment could have taken place in your everyday life, at work, in school, with administrative offices, out on the street, in your partnership, etc.
We are on your side
In our counselling we support you in developing a strategy that is right for you and your needs and situation. We don't take any steps that you do not agree with.
No cost to you
This counselling is offered free of charge.
Diversity of issues
Our counsellor team works together with their specialized legal, psychosocial or social work expertise to address the discrimination or racism issues that your are facing more effectively.
Mobile
Our counselling is "mobile", that is, we can meet you in your neighborhood or you can come to our extra offices in the north or outlying districts of Berlin.
Different Languages
We offer counselling in different languages: Arabic, English, French, German, Russian and Spanish.
Independence
We listen to you and defend your side of the story, and we work independently of the state institutions.
Quality
We work according to the quality standards of the ADVD, the Association of Independent Antidiscrimination Offices in Germany to offer you professional counselling services.
Community
We can support your community with information and empowerment workshops concerning your rights and strategies to fight racism and discrimination. We can offer these workshops in the locations where you meet, wherever they are in Berlin, including in the outlying districts.
We cooperate with "Partnerships for Democracy", neighborhood community houses and community organisation in the north and outlying disctricts of Berlin.
This project is made possible with funding from: